Laurel Mountain Kettle Corn
A Gluten Free, non gmo, peanut free, healthy snack
The smell and taste of fresh made kettle corn can't be beat.
We don't just produce our original recipe kettle corn, we also have come up with some really tasty flavors for you to enjoy.
Cinnamon Apple Kettle Corn – Just the right combination of sweet and spicy.
Caramel Kettle Corn – Very popular
Rainbow Kettle Corn – a taste explosion with every mouthful. Grape, cherry, raspberry, green apple, banana, and orange. WOW!!
Caramel Apple Kettle Corn – A taste of the country without the trip to the orchard.
Patriotic POP – our signature flavor, Red Wild Cherry, Blue Raspberry, and Original Recipe.
Original Recipe – A Sweet and Salty sensation.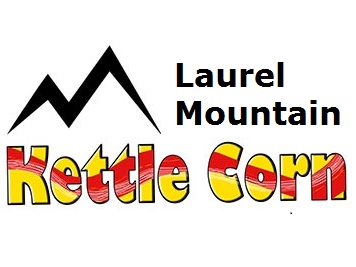 Fundraising
An Easy way to raise the money that your organization needs.
With a profit of 50%, we make it easy for you!
We provide full color brocures and order blanks and helpful tips for selling. All product is made within 24 hours of delivery. Email us at sales@laurelmtgroup.com to get started or call us at 724-446-1922